BOSTON
Considered America's most European city, Boston is beautiful, rich in history, and offers activities for all tastes. And, perhaps best of all, it is almost entirely walkable! With some of the world's finest educational institutions and medical centers, shopping on Newbury Street and in Quincy Market, beautiful parks, and an exciting new waterfront focus, Boston, Massachusetts is a popular destination for travelers of all types.
BOSTON NORTH END
Paul Revere's house and the Old North Church are here in the North End of Boston, along with fabulous Italian restaurants and the European ambience of Boston's old Italian neighborhood.
Surrounded by an active waterfront, Quincy Market, Faneuil Hall, and the new Rose Kennedy Greenway, the North End of Boston provides an intimate home-base from which to explore the city.
You can walk to the Financial District, over the bridge to Charlestown, or up the street to Beacon Hill. On a Sunday morning, stroll Hanover Street, enjoy a coffee and pastry at Mike's Pastry, and listen to the local Italians in conversation.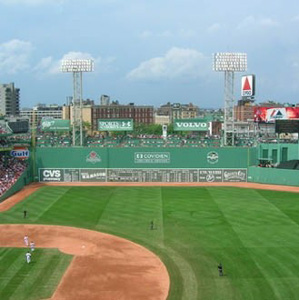 KENMORE SQUARE & FENWAY PARK
Bordering Back Bay and Brookline, this area has a character all its own, defined by the night skyline via the iconic neon Citgo sign rising above Kenmore Square and the night lights over Fenway Park.
The Museum of Fine Arts, the Isabella Stewart Gardner Museum (well known by the biggest heist in US history valued at $300 million dollars for works by Vermeer, Rembrandt and Manet, all of which are still missing), the Longwood medical area hospitals, Boston University, and the Hynes Convention Center are all nearby, but this is, above all, the home of Red Sox baseball nation.
Popular Longwood Medical Center hospitals include: Boston Children's Hospital, Beth Israel Hospital, Harvard Medical School, Brigham and Women's Hospital, Dana Farber, New England Baptist Hospital and Joslin Diabetes Center.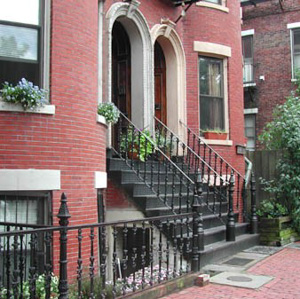 BOSTON SOUTH END
It's artsy, it's funky, and it has some of Boston's best restaurants and galleries. What you may not know about the South End of Boston is that it also boasts more Victorian homes – it's known for its brick bow-front town houses – than any other neighborhood in North America! Here you will find a plethora of Boston bed and breakfasts and Boston vacation rental apartments. The South End has a distinct personality, yet it's just a few blocks from the best of Boston shopping, theatre, and transportation.
At the edge of Copley Square, you can visit the tourist attractions of Trinity Church, the Boston Public Library, Copley Square, and Prudential Center shopping and offices. In just a few minutes, you will step into the theater district and the Boston Public Gardens, where you will enjoy a swan boat ride, historical statues of our fore-fathers, and the whimsical ducklings.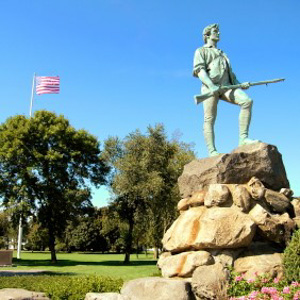 BOSTON WESTERN SUBURBS
Boston's Western suburbs are predominantly residential and many have charming town centers. Some are college towns, such as Wellesley and Newton, home to Boston College and Wellesley College. Some, like Concord, are hotbeds of American history and literature. If you happen to be here on Patriots's Day, you can witness the annual reenactment of the Battle of Lexington and Concord or, at other times of the year, walk the battle trail and visit the Museum of our National Heritage.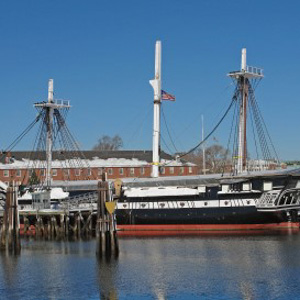 CHARLESTOWN
Charlestown is Boston's second oldest neighborhood and is located just north of Boston proper. Severely damaged by fire following the Battle of Bunker Hill in 1775, this once thriving colonial town was rebuilt after the Revolution and became the center of transportation and maritime industry in the 19th century. Stay at one of our charming Charlestown B&Bs or Charlestown Extended Stay Furnished Apartments, and visit the Bunker Hill Monument, built to commemorate that historic battle. Or tour the Charlestown Navy shipyard, now maintained by the National Park Service, where you can step aboard the USS Constitution "Old Ironsides," the oldest commissioned warship in the world. Charlestown is also home to many fine restaurants, including Todd English's Olives, which overlooks City Park Square in the heart of town and Warren Tavern, a local favorite opened in 1780 and still in operation, claims to have been one of Paul Revere's favorite taverns.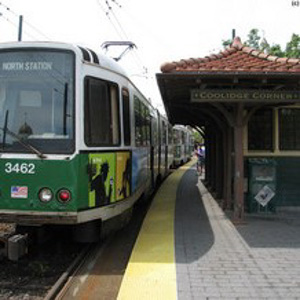 BROOKLINE
One can't tell where Boston ends and Brookline begins; the two are separated only by the Fenway, part of the string of parks designed by Frederick Law Olmsted and known as Boston's Emerald Necklace. Pleasing Brookline bed & breakfast in Victorian mansions are nestled along side streets near neighborhood commercial areas. Other Brookline lodging includes homey bed and breakfasts in charming brick row houses. Brookline is a city of neighborhoods, each with its own commercial area of unique shops and trendy, ethnic restaurants. From Brookline, it is just minutes to downtown Boston by the Green Line subway and just minutes by foot to many of the area's finest medical institutions. Lovely homes, Boston University, the Longwood Medical area with its famous hospitals – Boston Children's Hospital, Brigham and Women's, Dana Farber and more – and Fenway Park, home of the Boston Red Sox, define this great city that is nestled between Boston University (BU) and Boston College (BC).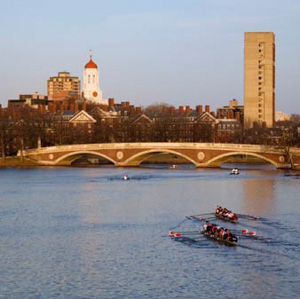 CAMBRIDGE
Cambridge, Massachusetts is the original American college town, home to Harvard University, MIT, Lesley, Cambridge College, and a host of literary and cultural activities. It is progressive, sophisticated, intriguing, and slightly bohemian. Along with neighboring Somerville, home of Tufts University, it also has delightful neighborhoods, wonderful ethnic restaurants, and unusual shops, plus excellent access to public transportation from most locations.
Offering extended stay, vacation rentals, bed and breakfasts from Bed and Breakfast Associates Bay Colony.